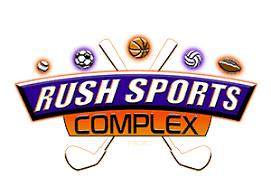 Rush Sports Complex offers people of all ages in Mercer County, and surrounding areas in Ohio the opportunity to learn, develop and play the sports they love! The 65,000 square foot multi-sport facility that residents of Celina, Ohio call home features 2 Fieldhouses, a Fitness Center, a Running Shoe and Apparel Store and the Par-Tee Golf Lounge.
We are open to the public, so stop whether you're a member or not, you can always come out and play at Rush Sports!
Day passes are $5 for non-members and can be purchased at the front desk!
The South Fieldhouse features 4 Basketball and Volleyball Courts and 4 Pickleball Courts. From September - March this fieldhouse will be full turf this will allow us to host our Soccer and Flag Football Leagues. This Fieldhouse also has 4 Batting Cages.
The North Fieldhouse is currently under construction and is scheduled to be finished in early December. This Fieldhouse will be courts all year round and will feature 3 Basketball Courts, 4 Volleyball Courts and 6 Pickleball Courts. In addition to hosting Basketball and Volleyball Tournaments in this Fieldhouse we will host a variety of camps, clinics and leagues!
Opened in December, 2022, Pat-Tee Golf Lounge is Located in Rush Sports Complex. To get to the Golf Lounge head in the front doors and take a Left!
Opened in December, 2022, Can't Stop Running operates out of the Rush Sports Pro Shop! Originally from Piqua, OH. Check them out for the best in running apparel.
Opened in June, 2023, Rush Sports Complex has partnered with Innergy Fitness out of Coldwater, OH to bring a full services Fitness Center to the Complex!