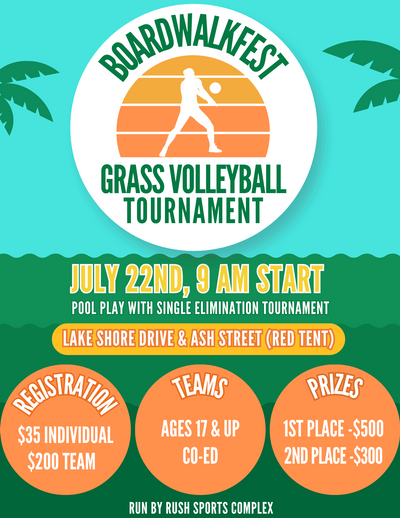 Boardwalkfest Grass Volleyball Tournament
When: First Games will be July 22nd at 9am - Pool Play with a single elimination tournament
Where: Lake Shore Drive and Ash Street- Big Red Tent and 4 Grass Volleyball Courts
Cost: $35 per free agent (we will make free agent teams). or $200 per team.
Who: anyone ages 17+, college players welcome (cannot receive prize), Business sponsored teams encouraged!
Prizes: 1st Place - $500 Cash, 2nd Place- $300 Cash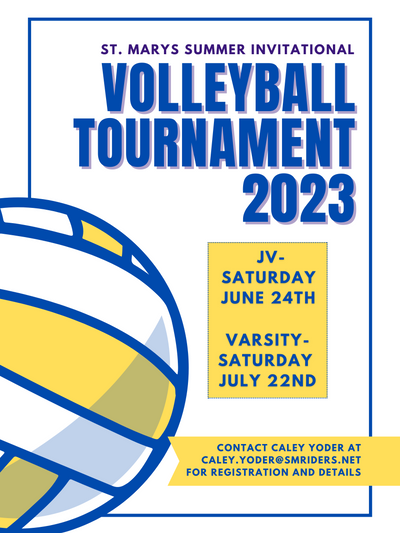 St. Marys Summer Invitational - JV and Varsity
St. Marys Summer Invitationals are JV and Varsity Volleyball Tournaments.
JV- June 24th, 2023.
Varsity- July 22nd. 2023
For more details or to register contact Caley Yoder at caley.yoder@smriders.net!
To our team at Rush Sports Complex, it's about more than just creating youth sports leagues. We understand the value youth sports can have on your child's life, and we're here to make it as positive of an experience as we possibly can! We want each of our youth league members to have fun, make friends, and enjoy our state-of-the-art facilities, as well as knowledge from our skilled and experienced coaches. We would be more than happy to answer any questions you may have about our programs, so get in touch with us today. Rush Sports Complex is the perfect place for your child to get involved in youth sports in Celina, OH, and have a great time doing it!